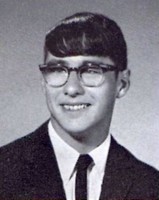 Tim Ritchie Mossman, 59, Lebanon, died Sunday, Dec. 16, 2007, at his home following an extended illness.

Mr. Mossman was born in Lebanon, Ind., on Nov. 19, 1948. He was the son of the late Jack Mossman and Jean Evelyn (Ritchie) Mossman, who survives in Lebanon. He was a life resident of Lebanon where he graduated from Lebanon High School in 1968. He served in the United States Navy from 1969 to 1971. Mr. Mossman worked in several capacities, including as a freelance photographer for The Lebanon Reporter, a clerk at the Government Center in Indianapolis, and last in maintenance at the Golden Chassis in Brownsburg. He was a son and brother and enjoyed his family. Mr. Mossman enjoyed movies and sports. He had a special interest in baseball as a fan and as a coach of Little League, where he participated for several years. He was a member of Centenary United Methodist Church in Lebanon, the American Legion, and the Lebanon Benevolent and Protective Order of Elks, where he was a Past Exalted Ruler.

Visitation will be held from noon to 2 p.m. Wednesday at Myers Mortuary in Lebanon. Funeral Services are to be held at 2 p.m. Wednesday at Myers Chapel of Memories, 1502 North Lebanon St., in Lebanon, Ind., with the Rev. David Patrick officiating. Interment will follow at Oak Hill Cemetery in Lebanon, Indiana.

In addition to his mother, survivors include two brothers, John M. Mossman, Denver, Colo., and Dan P. Mossman, Lebanon, and one niece and two nephews, Melinda Mossman, Benjamin Mossman, and Luke Mossman, all of Denver, Colo.

Memorial contributions may be made to Centenary United Methodist Church, 910 Fordice Road, Lebanon, IN 46052, or to the Lebanon Elks Lodge, 215 Lafayette Ave., Lebanon, IN 46052.