Welcome to the Lebanon Senior High School Class of 1968 website. On this site we hope to provide a way for classmates to connect in the future. All of the class names were taken from the 50th Reunion booklet. The information and privacy settings for each classmate is left to that individual to add as they deem appropriate.
Dear LHS 1968 Classmates,
In order to honor and pay respect to a classmate we lose, we have decided to establish a memorial fund. This fund will be used to purchase an arrangement to be sent to the funeral home. The arrangement will consist of a single red rose in a vase with black and gold ribbons to commemorate our classmate. Since this is a new fund, any contributions will be greatly appreciated. If you would like to donate, please send your donation to Dianna Ferguson, 2103 Elizaville Road, Lebanon, IN, 46052. We apologize that this wasn't done long ago, but better late than never!
- - - - - - - - - - - - - - - - - - - - - - - - - - - - - - - - - - - - - - - - - - - - - - - - - - - - - - - - - - - - - - -
Classmates had dinner at Arni's in Lebanon on Wednesday, 6/15/2022. Good to see everyone and chat. Meeting next month at the Elks Club, July 20th @ 6:00 pm. Planning our 55th reunion. Alan Cragun, Rena Russell, Laura Eaton, Linda Delpha, Sandy Isenhour, Dianna Vanlandingham Ferguson, Carol Janow, Bruce Snodgrass, Anna Heaton, Linda Duke, Linda Trent, Kay Montgomery, Linda Durr, Linda Schenck, Tony Hedge, Dan Mossman, John Trips. Linda Orr left before picture was taken.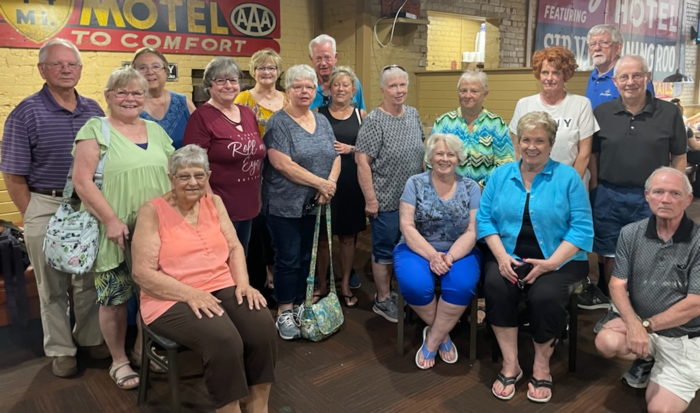 Dave Farris (our classmate) wrote a memoir of his experiences when he was in Vietnam. It's a history lesson as well as Dave's personal story. Like so many who served in the Vietnam War, it took years for the complete and true story to come out. The picture is the cover of his book. It is Dave with his two sons when they visited the Vietnam War Memorial in DC. Anyone who might be interested in purchasing the paperback book can get in touch with Dave either by email at dfar26@gmail.com or on Facebook. He can provide the appropriate details on how to order the book.