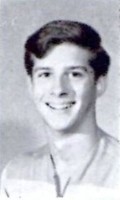 May 19, 1949 – Mar. 22, 1995
Former Lebanon resident Bobbie Lee Cooper, 45, died Wednesday at his De Leon Springs, Florida, home. Cooper spent most of his life in Lebanon and had owned Temperature Control of Lebanon. He retired as service manager of an air conditioning company.
Survivors include his wife, Sharon; daughters Pamela Bennett, Cape Coral, Fla., Jennifer Sarin, Lebanon, Michele Dross, Ormond Beach, Fla., and Melissa Schmitz, DeLand, Fla; mother and stepfather Dorothy and Chester Miller, Waxhaw, N.C.; a brother, Larry Cooper, Boca Raton, Fla, and five grandchildren. A memorial service was held Sunday in Holly Hill, Fla. Contributions may be made to the Gideons.