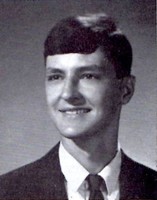 B: 10-26-1949 - D: 12-29-1992
Jack E. Hutson, 43, 1320 Miller Road, Lebanon, died at 7 a.m. today at his residence. He was born Oct. 26, 1949, at Lebanon, a son of Albert Jack and Barbara C. (Copenhaver) Hutson; his mother survives. He never married. Hutson was a 1968 graduate of Lebanon High School and 1975 graduate of Rose-Hulman Institute, receiving a bachelor's degree in engineering. After serving in the U.S. Navy, he worked at Diamond Chain, Indianapolis; Phillips Petroleum, Houston, Texas; Ball Engineering, Westfield, and Nordic Lite, Detroit, Mich., retiring from there in 1992 due to ill health. He worked with homeless people while in Michigan. Hutson was a member of the Terre Haute Methodist Church.
Survivors include sisters Mrs. Charles (Tessie Irene) Allen, Martinsville, and Mrs. Richard (Paula J.) Parker, Lebanon, and several nieces and nephews. Funeral services will be 2 p.m. Thursday at Russell & Hitch Funeral Home, 223 N. Meridian St., Lebanon, with the Rev. Charles Hiatt officiating. Burial will be at Lincoln Memory Gardens. Visitation at the funeral home is from 2 to 9 p.m. Wednesday. Memorial contributions may be made to the Damien Center, Indianapolis.