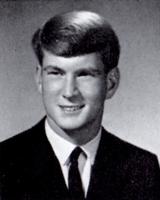 It is with great sadness that the family of Ted Richard Quick announces his passing on Sunday, September 30, 2018, at the age of 68.
Ted will be lovingly remembered by his wife, Sarah, and his children Greg (Amanda), Brad, and Natalie (Jason). He will also be fondly remembered by his five grandchildren, Katie, Lainey, Sarah, Samuel, and Spencer, brother, Mike, sister, Jane, and far too many close friends and fraternity brothers to mention. Ted was preceded in death by his mother, Norma, and father, Charles.
A native of Lebanon, Indiana, Ted worked on the family farm with his father before graduating from his beloved Ball State University where he was a member of the University Singers and president of the Sigma Phi Epsilon Fraternity. Ted went on to own his own business, manage a national sales team, and sell machine tools for most of his adult life. He retired to Zionsville, Indiana, and spent as much time as he could playing golf with his two boys and enjoying family.
Ted was a tremendous father, husband, and grandparent. Though he had many accomplishments in the business world, he was most proud of his family and cherished them greatly. He will be greatly missed for his unmatched sense of humor and wit, something those close to him will forever miss immensely. Words cannot describe how loved and how missed Ted will be, though we know he is in a better place in the kingdom of the Lord.
Funeral Services are planned for Thursday, October 4, 2018, at 2:00 p.m. with visitation beginning at 11:00 a.m. at Myers Mortuary, 1502 North Lebanon Street, in Lebanon, Indiana. Interment will follow services at Oak Hill Cemetery in Lebanon, Indiana.
Contributions can be made to the Boone County Cancer Society or the Martin Riverside Society of Sigma Phi Epsilon.