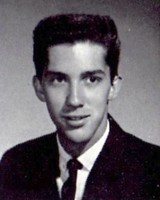 Robert McIntyre, 69, of Jamestown, Indiana, formerly of Lebanon, passed away on Tuesday, July 11, 2017, at his home in Jamestown. He was born on Sept. 3, 1947, the son of the late Alfred J. McIntyre and Phyllis (Payne) McIntyre Richardson.
Bob married Paula Jean Emery on Feb. 24, 1968, in Frankfort; she survives.
He lived in Lebanon until 2009, when he moved to Jamestown. Bob had worked for Hefners 13 years. He then worked for Kehe Foods for 25 years, before retiring in 2013.
As a devoted husband, father, grandfather and great-grandfather, he loved spending time with his family. Bob enjoyed puzzles, traveling on family vacations, and playing cards. He was an avid Colts and Jimmy Buffet fan.
Survivors include wife, Paula McIntyre of Jamestown; children, Rebecca A. Rogers and husband, Douglas, of Lebanon, Robert E. McIntyre Jr. and wife, Sylvia, of Lebanon, and Amy Jo Moore and husband, Craig, of Indianapolis; grandchildren, Robert E. McIntyre III, Amber Dawn Wood, Matthew Jacob McIntyre, Ryan Douglas Rogers, Kyle Christopher Rogers and Annelise Quinn Moore; great-grandchildren, Dreden Lee Clemens, Koralee Ann Clemens and Ryker Leim Wood; and sisters, Janet Inskeep of Lafayette and Judith Moore of Lebanon.
In addition to his parents, Bob was preceded in death by a brother-in-law, Robert Inskeep.
Private family services will be held at Myers Mortuary, 1502 N. Lebanon St., Lebanon. Boone County Crematory has been entrusted with cremation. Memorials may be made in his honor to the American Heart Association, 6500 Technology Center Dr., Suite 100, Indianapolis, IN 46077; or the Boone County Cancer Society, 117 W. Elm St., Lebanon, IN 46052.