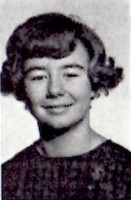 Barbara Fernell Kiefer, 66, of Rushville passed away Dec. 28, 2016, at Community North Hospital in Indianapolis.
Barbara was born Oct. 18, 1950, in Lebanon, to the now late Jack K. and E. Irene (Hileman) Click.
She graduated from Speedway High School in 1968. She married Ralph Kiefer on March 14, 1969, in Indianapolis, and they had two children.
Barb retired in 2010 as the activities director for Millers Merry Manor. She also worked as a teacher's aide for the Rush County school system, and was the program director for the Rush County Boys & Girls Club for many years. Barbara attended St. Mary's Church in Rushville, and loved to play bingo and go antiquing.
Those left to celebrate her life include her spouse, Ralph; daughter, Morgan Kiefer of Rushville; son, Brad (Janelle) Kiefer of Whitestown; brother, Mark (Barbara) Click of Rushville; and sister, Mary Ellen Dorgan of Indianapolis. She is also survived by her grandchildren, Brady and Isabella Kiefer, along with several nieces and nephews.
Friends are welcome to visit from 9:30 to 11 a.m. Tuesday, Jan. 3, at St. Mary's Church in Rushville. A Mass of Christian Burial will be held at 11 a.m. Tuesday at the church, with the Rev. Jeremy Gries presiding. Burial will follow at Calvary Cemetery in Rushville.
In lieu of flowers, contributions may be made to the American Diabetes Association.