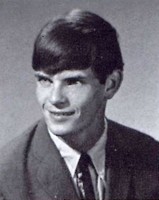 B: 03-23-1950 D: 12-12-1991
Services are arranged for 2 p.m. Sunday at the Russell & Hitch Funeral Home in Lebanon for Timothy Lee Newkirk. Pastor Jack Stanley will conduct the funeral, followed with interment in Lincoln Memory Gardens. Visitation at the funeral home is from 6 to 9 p.m. Saturday. Memorials may be made to the Lebanon Bible Baptist Church.
Newkirk, who was 41, died unexpectedly Thursday morning at his home on North West Street. He was born March 23, 1950, in Indianapolis. His parents are Floyd and Venus (Alley) Newkirk of Lebanon. He was graduated in 1968 from Lebanon High School and worked at Lau Blower after high school, and then was employed a number of years at Hub States Chemical Co. in Indianapolis. More recently he had been a self-employed painter. He attended the Lebanon Bible Baptist Church, and his hobbies were fishing, bowling and hunting.
Surviving in addition to the parents are children Sherri Newkirk of Indianapolis, Dustin Lee and Morgan Michelle Newkirk, both of Bloomfield; brothers Floyd Douglas of Indianapolis, Jerry of New Castle, Thomas W. of Rockport and Steven Allen Newkirk of Lebanon; a foster brother Donald Abner of Lebanon; and several nieces and nephews. Brothers Fred Michael and Clifford John Newkirk preceded him in death.