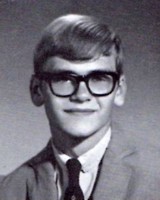 B: 10-03-1950 - D: 11-17-2003
Steven F. Jones, 53, Whitney, Texas, formerly of Lebanon, died Nov. 17, 2003, at his home. He was born Oct. 3, 1950, in Lebanon the son of Henry F. and Marilyn Jones. His parents survive. He married Barb Dehn; they divorced in 1981. He was raised in the Whitestown area and graduated from Lebanon High School in 1968, and worked in the construction business with his father and brothers.
He is survived by three sons, Clint Jones, Lebanon, Chris Jones, Vincennes, and Casey Jones; three daughters, Jessica, Jeanie and Andrea Jones; brothers Mike and Mark Jones, Whitney, Texas; a sister, Debbie Moore, Whitney, Texas; his grandmother, Eva McCoy, Flora; three grandchildren, Danni, Jonathan and Garrett Jones; aunts and uncles, Linda Hess, Lebanon, Ed and Norma Dulin, of Illinois, Larry and Rosalie Hughes, Ohio; a companion, Marcia Vincent, Whitney, Texas; three nieces, three nephews and several cousins. He was preceded in death by his paternal grandparents, Ernest and Alma Jones; his maternal grandfather, Lloyd McCoy; and a niece Katie Moore. Services are pending.