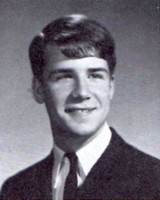 B: 04-25-1950 - D: 06-15-1968
An 18-year old 1968 Lebanon High School graduate was dead on arrival early today at Witham Memorial Hospital here following an accident on I-65 a mile south of the SR 32 intersection. The victim was identified as Robert S. Hunter, RR2, Lebanon, son of Mr. and Mrs. Richard Hunter, of the same address.
State Trooper Meridith Hughes said the accident occurred at about 12:40 a.m. when Hunter had been travelling south on I-65. Hughes said it appeared Hunter's 1961 Chevrolet struck a guardrail and overturned throwing the driver onto the pavement. A second vehicle, a 1966 Buick also travelling south and operated by Paul Fabing, 44, Roselle, Illinois, travelling behind the Hunter auto, skidded on the wet highway for more than 100 feet attempting to avoid hitting Hunter but struck him and dragged him 50 feet, Hughes' police report indicated. Fabing and his family had just begun their vacation. Hunter was rushed to Witham Hospital where he was pronounced dead upon arrival by officials there of a skull fracture. Fabing was not held. Officers said Hunter's auto was badly damaged having landed on its roof after overturning. It appeared control of the car was lost for some unknown reason.
Hunter graduated just this spring from Lebanon High School. His death brings to six the number of persons to lose their life on Boone County roads for 1968, just one below the number killed at this same time last year. Hunter had been returning from the Ralston Co. plant at Arbor Acres when the accident occurred. He had worked there for a year. He formerly worked at the M.M. Neal Company and had been enrolled at the Lain Technical Institute in Indianapolis.
Funeral services will be held at 2 p.m. Monday at the Russell & Hitch Funeral Home in Lebanon with burial to be in the Oak Hill Cemetery. The Rev. Eugene Ton will conduct last rites. Friends may call at the funeral home after 2 pm. Sunday. In addition to the parents, survivors include grandparents, Mr. and Mrs. Walter Dinsmore, of Lebanon, two brothers, Ritchie and John Hunter both at home and a sister, Dianna, also at home. Dr. Ritchie Coons, coroner, assisted Trooper Hughes in the investigation of the accident as did Lebanon City Police officers.