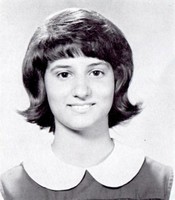 B: 11-11-1949 - D: 11-29-1966
Carol Ellen Hodgdon, 17-year old daughter of Ervin and Eunice (Everett) Hodgdon, passed away at 9 a.m. today in the Methodist Hospital in Indianapolis, where she had been a patient for several weeks. Carol was a junior in Lebanon Senior High School, but due to illness was able to attend classes only about three weeks this year. Over the past few years, she had been in and out of the hospital many times for surgery, treatment and care. A radiant, friendly and popular girl, she was greatly admired by her fellow classmates for her courage and deep faith.
Carol underwent amputation of her right leg on July 13, 1964 at the New York Memorial Hospital after a malignancy was discovered. At that time, she was a freshman at Lebanon Junior High School. Previously she had attended Perry Central School. Since then she had been faithful in her attendance of classes whenever her health permitted. She was an inspiration to her friends, classmates, family and all who knew her through her strong determination to never admit defeat. She attended the Central Christian church and actively participated in Youth Fellowship events. She was a member of the Sunshine Society, Spanish Club and Future Business Leaders of America at the high school. She also was a member of the Order of Rainbow for Girls and Shiamis. Carol was born in Lebanon November 11, 1949. Her father is an employee of the Post Office. Surviving besides the parents are a brother, Lester (Buddy) Hodgdon of the U.S. Navy stationed at the Naval Academy in Annapolis, Md.; a sister, Joyce, 12, at home; the maternal grandparents, Mr. and Mrs. Lester Everett of Lebanon; and paternal grandmother, Mrs. Margaret Hodgdon of Meredith, N.H.
Last rites will be conducted at 2 p.m. Friday at the Myers Chapel of Memories with the Rev. Fred Sharp officiating. Burial will be in Oak Hill cemetery. Friends will be received at Myers Mortuary after 7 p.m. Wednesday.