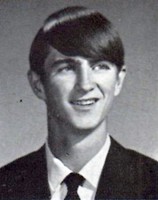 Jan. 16, 1950 - Aug. 16, 1968
Pfc. Dennis W. Heffner of Lebanon became Boone County's sixth casualty of the Vietnam war. The 18-year-old United States Marine Corps fighter died August 16 in the Quang Tri Province of fragmentation wounds to the body from an accidental detonation of a grenade. He had been in Vietnam only about 18 days, arriving there July 29 from Camp Pendleton, California where he received his basic training and other instructions following his enlistment on January 28, 1968. His wife is the former Cindy D. Reeves and resides at 304 ½ East Pearl Street. Pfc. Heffner is the son of Mr. and Mrs. Jack Heffner of 301 East South Street. He was born in Lebanon January 16, 1950. He attended Lebanon High School and worked at the Boys' Shop of the LeMar Shop, Jones and Benigar clothing store and the Model Sports Center while in school and before going into service. He was preceded in death just a few months ago by an infant daughter, Jami Denise, who was born March 30 and died April 15. At that time, Dennis was home on an emergency leave. He then returned to Camp Pendleton for ITR training and was home on a 20-day furlough before departing July 8 for the west coast. The family had received a letter from him written on August 14. At the time of receiving the tragic news, the parents were in Chicago for a convention.
Surviving in addition to the widow and parents are a sister, Deborah, age 17, a brother Donald, age 15, both students at Lebanon High School; paternal grandparents, Mr. and Mrs. J. Dorsey Heffner of New Brunswick, and maternal grandparents, Mr. and Mrs. James Locke of Darlington, formerly of Lebanon.
Details of the death of young Heffner will be received Wednesday, when representatives of the USMC are to come to Lebanon. In the meantime, the family is making arrangements with Russell & Hitch Funeral Home to receive the body when it is returned to Lebanon, but no definite date has been established. The family was notified of the death Monday by General Leonard F. Champman, Commandant of the Marine Corps.
Military rites will be conducted Monday at 10 a.m. at the Russell & Hitch Funeral Home for Private First-Class Dennis Wayne Heffner, 18-year-old Lebanon Marine who was killed by a hand grenade on August 16. Rev. Stanley Peterson will assist with rites, and burial will be in Oak Hill Cemetery.