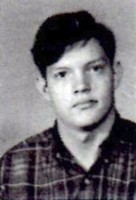 Aug. 9, 1949 – Jun. 18, 1986
Military graveside rites will be held tomorrow at Oak Hill Cemetery for former Lebanon resident Ralph P. Hawkins, who died Wednesday at Brooke Burn Center, Ft. Sam Houston, San Antonio, Texas. Hawkins, a resident of Biloxi, Miss, suffered burns over 82 percent of his body in an accident June 3. Friends will be received by the family at Myers Mortuary this evening after 7 p.m. The Rev. George Gidman will officiate at Saturday's service. A Boone County native, he was born in Lebanon Aug. 9, 1949, a son of Robert R. and Alice M. (Campbell) Hawkins, both deceased. He was first wed in 1969 at Indianapolis to the former Darlene Farrell. They were divorced. He later met and married the former Linda Grau in August, 1982, at Pittsburg, Pa.
Also surviving are Denise Ann and Christina Michelle, daughters from his first marriage; brothers Richard G. of rural Whitestown; John D., Nolan C. and Robert W. Hawkins of Lebanon; a sister Margaret L. "Peggy" Ford, also of Lebanon, and several nieces and nephews. He was reared and educated in Lebanon where he attended Lebanon High School. Hawkins entered the U.S. Army in 1966 and served his country through 1978, including three years in Germany and two tours in Vietnam. He was rated E-6 at the time he was discharged. Following his military service, Hawkins returned to Lebanon where he resided for four years, then moved to Biloxi.