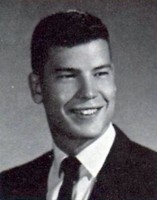 MR. WILLIAM A. "BILL" HANDLEY
NAME: Mr. William Ashton Handley Age: 55 Divorced
City of Residence: 3625 East 400 South, Lebanon Indiana
Date of Death: Tuesday, November 16, 2004, at 3:30 p.m.
Place of Death: At Homewood Health Campus in Lebanon, Indiana
Cause of Death: Natural Causes following a lengthy illness
Mr. Handley was born in Ohio on January 12, 1949, the son of the late Thorman Ashton and Vera Helen (Merges) Handley. Mr. Handley was reared in Lebanon where he was a 1968 graduate of Lebanon High School. He was a tool and die maker and machinist. In Indianapolis he was employed for twenty years at the C.T.P. Corporation until May 2004 when he retired due to his health. Mr. Handley enjoyed his family and grandchildren. In addition he liked woodworking, camping, Indian Pow Wows, Indian culture and buck skinning.
Family graveside Interment Services will be held following cremation.
Visitation is planned for Friday, November 19, 2004, from 4:00 to 8:00 p.m. at Myers Chapel of Memories, 1502 North Lebanon Street, in Lebanon, Indiana. Interment will be at Old Union Cemetery.
Survivors:
Two Daughters: Mrs. Stacy D. Hineman and husband, Harry – Indianapolis, IN
Ms. Brandi K. Handley – Lebanon, Indiana
One Sister: Mrs. Jo Anna Swift and husband, Howard – Colorado
Two Grandsons: Austyn T. Hineman & Brayden E. Hineman - Indianapolis, IN
Deceased: His parents and step father, L. D. Whittinghill, are deceased.
Memorials: Charity of the Donor's Choice