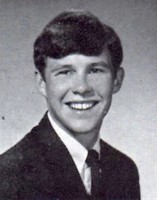 Nov. 8, 1949 – Feb. 5, 1993
Services will be 11 a.m. Monday for 16-year veteran Indiana State Trooper Michael E. Greene who was gunned down in the line of duty Friday afternoon on I-65. Indiana State Police Chaplains Father Richard Cooley, Dr. Craig Overmyer, and the Rev. Richard Moore will officiate at the funeral to be held in the Lebanon High School gymnasium. Burial will follow at Browns Wonder Cemetery near Lebanon. Friends will be received Sunday from 2-7 p.m. at Myers Mortuary.
Greene was born Nov. 8, 1949, in Lebanon, the son of Thomas W. and Betty L. (Wallace) Greene. His mother survives and resides in Lebanon. He was married to the former Genet M. Kuyper on May 31, 1986, in Rensselaer. She also survives. In addition, he is survived by a daughter, Shannon M. Greene of Rensselaer; sons Michael C. Greene and Nick T. Messer, both at home; brothers John T. and James W. Greene, both of Lebanon, and a paternal grandmother, Viola Greene of Lebanon. Greene was reared and educated in Lebanon, graduating from Lebanon High School in 1968. He attended Indiana State University. Following school, he served in the Indiana National Guard. He had been employed by UPS prior to joining the State Police. He was first assigned to the Lowell and Bloomington districts, prior to his current assignment in the Indianapolis District. A pilot, he also had enjoyed coaching baseball, serving as the coach for the Triangle Asphalt team of the Senior League in Lebanon for the past four years. Memorials may be made to the Lebanon Baseball Program in care of Myers Mortuary.
http://www.odmp.org/officer/reflections/452-master-trooper-michael-earl-greene