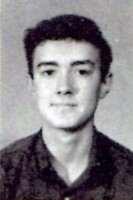 Mar. 31, 1950 – Mar. 26, 1969
Boone County's ninth Vietnam war casualty was reported today when a Lebanon Marine was killed just five days before his 19th birthday near DaNang. The parents of Pfc. Stanley Clingler, 526 West Pearl St., Lebanon, were notified that he had been killed in action March 26, while serving as a radioman for Company ?? of a Marine Division on patrol there. He is the son of Irvin and Juanita Clingler, both of whom reside in Lebanon. Pfc. Clingler was wounded September 13th near the DMZ when he received shrapnel in the leg. He was later returned to action and had been scheduled to return in August of 1969 – a year after he arrived in Vietnam. He entered the Marines, March 8, 1968, after leaving Lebanon High School where he was a junior. He had worked three summers at the Arbor Acres Co. north of Lebanon before entering the service. The family has not received specific details of the death of Pfc. Clingler. Major Lloyd Cisewski, of the Marine Training Center in Indianapolis, is scheduled to meet with the parents tomorrow with additional details of how Clingler was killed, and when the body will arrive in Lebanon for services. Pfc. Clingler had been scheduled to receive the Purple Heart for his injuries in the September 13th incident.
In addition to the parents, survivors include a brother, John Steven Clingler, two sisters, Nancy Clingler, of Indianapolis and Mrs. Brenda Isenhower, of Lebanon and grandparents, Mrs. Ruth Adair, of Lebanon, and Mr. and Mrs. Ross Clingler, of Whitestown. He was the step brother of Pfc. Michael Hale, who was killed August 18, 1968 near Anhoa in Vietnam. The Myers Mortuary of Lebanon will be in charge of funeral details.