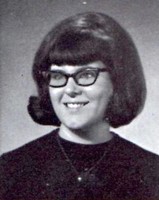 Obituary for Wilma McClaine
Age: 64, Married, City of Residence: Cape Coral, Florida and Lebanon, Indiana.
Date of Death: Thursday, January 29, 2015.
Place of Death: at Hope Hospice in Cape Coral, Florida.
Mrs. Wilma Mae McClaine was born on May 26, 1950, in Lebanon, Indiana, a daughter of the late Paul LaVere Smith and Rubie Mae (Artman) Smith Selby. A longtime resident of Boone County, Wilma graduated in 1968 from Lebanon High School. On November 8, 1985, she was married to Melvyn L. McClaine in Lebanon. Mr. McClaine survives. For many years, Wilma had operated a daycare. She had worked for Aero Drapery in Westfield and the Farm Bureau Co-op in Lebanon. In 1983, Wilma went to work with her husband at McClaine Plumbing and Heating. They both retired in 2007. She was a devoted wife, mother and grandmother. She loved wintering in Florida where she enjoyed riding her "Go-Go" around town. In addition, Wilma enjoyed reading and working on puzzles.
Visitation is planned for Tuesday, February 3, 2015, from 4:00 to 7:00 p.m. at Myers Mortuary, 1502 North Lebanon Street, in Lebanon, Indiana. Funeral Services will be held at 10:30 a.m. on Wednesday, February 4, 2015, at the funeral home in Lebanon, with Rev. Paul Trent, officiating. Interment will follow services at Oak Hill Cemetery in Lebanon.
Survivors: Husband: Melvyn L. McClaine – Cape Coral, Florida.
Four Children: Vicki K. Miller and husband, David – Lebanon, Indiana.
Paula M. Moore – Lebanon, Indiana.
Jennifer Abrell and husband, Tom – Clay City, Indiana.
Jeff McClaine and wife, Michi – Bloomington, Indiana.
Nine Grandchildren: Veronica Miller, Cole Miller, Harlow Miller, Kashia Moore, Klayton Moore, Marjorie Abrell, Lucas Abrell, Cameron McClaine, Emiko McClaine.
Five Sisters: Norma L. McBride – Audubon, New Jersey.
Joan McCord – Plainfield, Indiana.
Wanda K. Smith and husband, Steven – Lebanon, Indiana.
Gladys A. Edwards and husband, Richard – Lebanon, Indiana.
Gloria Stewart and companion, John Knox – Lebanon, Indiana.
Deceased: In addition to her parents, Wilma was preceded in death by three brothers, Allen Smith, Danny T. Smith, and Dennis P. Smith.
Memorials may be made to the Charity of the Donor's Choice.