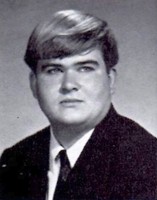 Richard L. Pedigo, II
Age: 64
City of Residence: Frankfort, Indiana
Date of Death: Saturday, February 14, 2015
Place of Death: at his residence in Frankfort, Indiana
Richard Lee Pedigo, II was born in Indianapolis on April 26, 1950, a son of Richard Lee Pedigo and the late Catherine "Kitty" (Lanham) Pedigo. He attended Lebanon High School and then went on to attend Indiana University in Kokomo. On January 6, 1979, he was married to Jo-Ann (Killion) Pedigo in Speedway, Indiana; she survives. Richard was a longtime resident of Boone County and in 1986 he moved to Frankfort where he had since resided. He owned and operated J & R Automotive for many years, retiring in 1994. He was a member of several auto clubs. A devoted husband, father and grandfather he loved spending time with his family, especially golfing with his sons. Richard was a collector and enjoyed picking up items such as tools, books and car models.
Visitation is planned for Wednesday, February 18, 2015 from 4:00 to 6:00 p.m. at Myers Mortuary, 1502 North Lebanon Street, in Lebanon, Indiana. Funeral Services will be held at 11:00 a.m., on Thursday, February 19, 2015, at the funeral home in Lebanon. Interment will take place at a later date at Mt. Tabor Cemetery in Fayette, Indiana.
Survivors:
Wife: Jo-Ann Killion-Pedigo – Frankfort, Indiana
Father: Richard Lee Pedigo – Fayette, Indiana
Four Children:
Rev. Theresa Baker and husband, Rev. Bennie – Waterloo, Iowa
Elmer Oaks and wife, Lisa – Lafayette, Indiana
Richard L. Pedigo, III – Frankfort, Indiana
John Pedigo and wife, Monica – Elk Grove, California
Eight Grandchildren:
Stephano Baker and wife, Adrean
Benjamin Baker
Reagan Baker
Andrew Oaks
Adam Oaks
Aiden Pedigo
Georgia Pedigo
William Pedigo
Two Brothers:
Ronald Pedigo and wife, Kathy – Lebanon, Indiana
Robert Pedigo and wife, Danni – Brownsburg, Indiana
Several Nieces and Nephews
Deceased: In addition to his mother, he was preceded in death by a granddaughter, Abigail Pedigo.
Memorials may be made to assist the family c/o Myers Mortuary, 1502 North Lebanon Street, in Lebanon, Indiana.