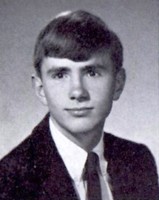 B: 05-01-1950 D: 12-26-2007
Earl William "Bill" Cox, 57, of Indianapolis, passed away Wednesday, December 26th, 2007 at Community North Hospital. He was born May 1, 1950 to the late Ralph and Mary Elizabeth Cox in Jefferson City, TN. He served in the U.S. Navy in the Vietnam War, receiving a Military Combat Ribbon.
Earl is survived by his beloved wife of 19 years, Dorothy Cox; daughters, Kimberly (husband Sam), Cathy (husband Latham), Jennifer, Nyreeja; step daughter, Peggy; step son, John David; 11 grandchildren, Jessica, Thomas, Michael, and Katie Guffey, Savanah and Victoria Florence, Noah Hasket, William Scott, Tiffany Crystal, John Thomas, and Kimberly Ann Morris; sisters, Mary Ann (husband Ron), Joellen (husband Phil); brother, Jim (wife Sandi).
A memorial service will be held at a later date. In lieu of flowers, the family request memorial donations be made to the Disabled American Veterans Association, 2439 W. 16th St., Indianapolis, IN 46222. Please visit his online guestbook at www.harrywmoore.com