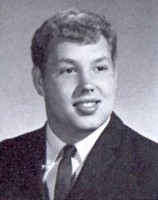 Dennis Keith Chitwood, 66, passed away Wednesday morning, December 2, 2015, at his home in Lebanon, Indiana. He was born on June 16, 1949 in Indianapolis, a son of the late Paul Kenneth and A. Martha (McLean) Chitwood.
At a young age Dennis' family moved to Lebanon where he attended Lebanon schools. He was a 1968 graduate of Ben Davis High School. Dennis worked many years as a self-employed electrician in the Boone County area. He loved attending his grandchildren's sporting events and enjoyed racing winged sprint cars, riding his motorcycle, and camping. Dennis was a former member of the Lebanon Eagles.
Visitation will be held at Myers Mortuary, 1502 North Lebanon Street, in Lebanon, Indiana, on Saturday, December 5, 2015 from 12:30 to 2:30 p.m.
Funeral Services are planned for 2:30 p.m. on Saturday, at the funeral home in Lebanon. Interment will follow services at Oak Hill Cemetery in Lebanon, Indiana.
Survivors:
Fiancée:
Cheryl Winters – Lebanon, Indiana
Cheryl's Daughters:
Chandra Meyer (Shane Swift) – Danville, Indiana
Janna Williamson and husband, Ryan – Lebanon, Indiana
Grandchildren:
Easton Williamson
Camden Williamson
Taig Williamson
Two Sisters:
Elaine K. Richards and husband, William – Greenwood, Indiana
Paula S. Kruszewski – Toledo, Ohio
Brother:
Fred C. Chitwood and wife, Denise – Lebanon, Indiana
Several Nieces and Nephews
In addition to his parents, Dennis was preceded in death by a sister, Rosemary Charlene Brown and a brother-in-law, Larry Kruszewski.
Memorials may be made to Myers Mortuary to assist the family.